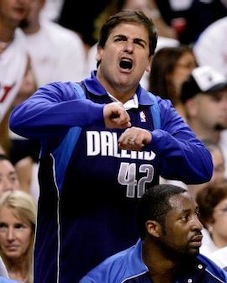 "There is absolutely nothing to say after that." That was Mark Cuban's twitter last night referring to the no call on Carmello Anthony's three pointer.
Now that is how you effectively use twitter. You see, what he did here was display his feelings via a short little quote for everyone to see what he was thinking/doing at that point in time. Not that I have a twitter or know how to tweet but if I did, I probably would have tweeted the same thing.
I want everyone to see exactly what I wrote prior to Game 4 of the Houston vs. Los Angeles series while I was on route to watch my brother play lacrosse in New Jersey.
"With Yao Ming's broken foot and the worst last-second missed call that I can remember, round two of the Western Conference playoffs is all but over. Just pencil in LA and Denver for the Western Conference finals. It's to bad, because these two semifinals match-ups had a lot of promise. Competition in the NBA is so match up driven, and Dallas and Houston both matched up well against Denver and LA; giving these series the potential to be great. Injuries are unfortunate, but what happened in Dallas was egregious. I'm not a conspiracy theorist, but the NBA and its refs must really hate Dallas. In a game that is as subjective as basketball, it's easy to see what you want to see, and psychologically, it's hard not to have a rooting interest. So I have come to the conclusion that no one in the NBA likes Mark Cuban, especially the refs. This trend will only continue because as he moans and complains more and more, refs will continue to be biased against him. No one likes complainers. Just look at Melissa Rivers on Celebrity Apprentice. Bad example...I shouldn't even admit to watching that, but let's roll with it.
I know Dallas can be blamed partly because they had an opportunity to close out the game, but instead put it in the refs hands down the stretch. Even so, the refs blew that game plain and simple. In that situation, they should be looking for a foul knowing Dallas had a foul to give. The Tim Donaghy incident blew open the NBA's already well-known officiating problems over the years to the public, and calls like last night's make you think that the league is far from solving its officiating woes. There needs to be some level of public accountability for refs. If players are getting fined and being assessed flagrant fouls after the fact, then NBA refs should be fined and suspended publicly for missed calls. The ref that blew the call in the game last night should be suspended and fined pay for one game.
Now with Dallas in a 3-0 hole and Houston down 2-1 without Yao, we can almost start to break down the match-up between LA and Denver. Actually, this is the NBA, "where amazing happens," so I don't want to be on the record as a complete idiot and say Houston has no chance. So here is my official stance on the rest of the Houston vs. LA series: "Houston has a real outside chance but it will be really tough to win three of 4 especially with 2 games being played in LA." The only way that Houston can come back in this series is to go small with Aaron Brooks and Kyle Lowry in the back court, and take advantage of the suspect point guards of LA. I honestly can't see this happening so I'm going to go ahead and break down the Denver/LA series... because I can."
Then I go on to prematurely break down the LA/Denver series like an idiot, which I will save for a future column. I didn't get to see all of the Houston's upset of LA, but here are the few things I took away from the game.
Games like Houston's upset of LA in game 4 are why we watch sports. It goes to show, you can never count anyone out. As a complete unbiased fan, I felt proud of how Houston took the game right to LA, despite having the deck stacked against them. In the end, heart, character and toughness can trump talent any day.
Further, this is another hit on Kobe's case as a top tier all-time NBA player. He is probably the best, if not second best, player in the world right now, but I think he is in the second tier all time. To be considered among the first tier of all time great players, you make sure your team handles a wounded team like Houston, missing their top two players, and don't give them any life. You also don't blow twenty point leads in must win games during the NBA finals like Kobe did last year. You also don't demand to be traded when your team isn't putting the players around you that you want. I'm not saying Kobe isn't a great player, because he clearly is; he scored 81 points in a game. But there is so much going against Kobe that I don't put him on the level of the Jordan, Bird, Magic and dare I say Lebron. If you're Kobe, you just can't let these things happen. That's what separates the greatest ever, from just great.